Modular wooden shelving. Made of pine or beech wood, it consists of open or closed ladders and shelves in solid wood. The shelves are adjustable in height every 50mm. It presents several types of cornices, with the possibility of choosing wooden doors or doors framed in glass, magazine holders with storage, shelves for audiovisual media, skirting board and upper signage. One-sided modules, which join to form double modules. It is complemented with a series of matching auxiliary furniture. Various measurements and finishes.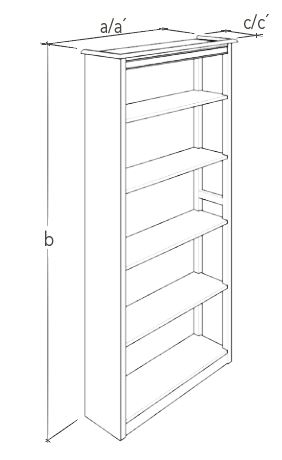 Measurements
a: 84 / 94 / 124 cm.
a´: 80,5 / 90,5 / 110,5 cm.
b: 98 / 163 / 208 / 248 cm.
c: 22 / 30 cm.
c´: 60 cm.
(*) Para otras medidas consultar.
Shelving made of pine or beech wood.